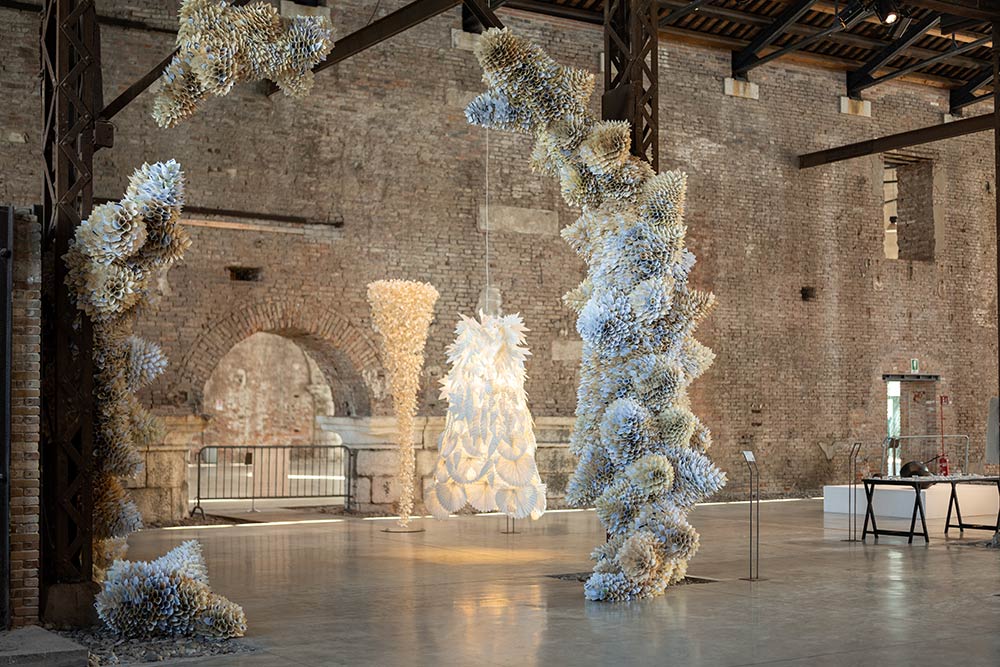 13 Dec

Interview with Samuelle Green

Meet Samuelle Green from Honesdale, United States of America – one of the tree overall winners of 15th Arte Laguna Prize. Her art trasforms rycled materials into amazing works of art.

First of all, congratulations, Samuelle! Please tell us about your experience with Arte Laguna Prize, and how did you feel when you heard your name as a winner?

What a surprise! When I first applied to Arte Laguna Prize I could not have imagined this outcome. I was excited to be accepted as a participant and have the opportunity to exhibit in Venice so being named a winner was an unexpected honor!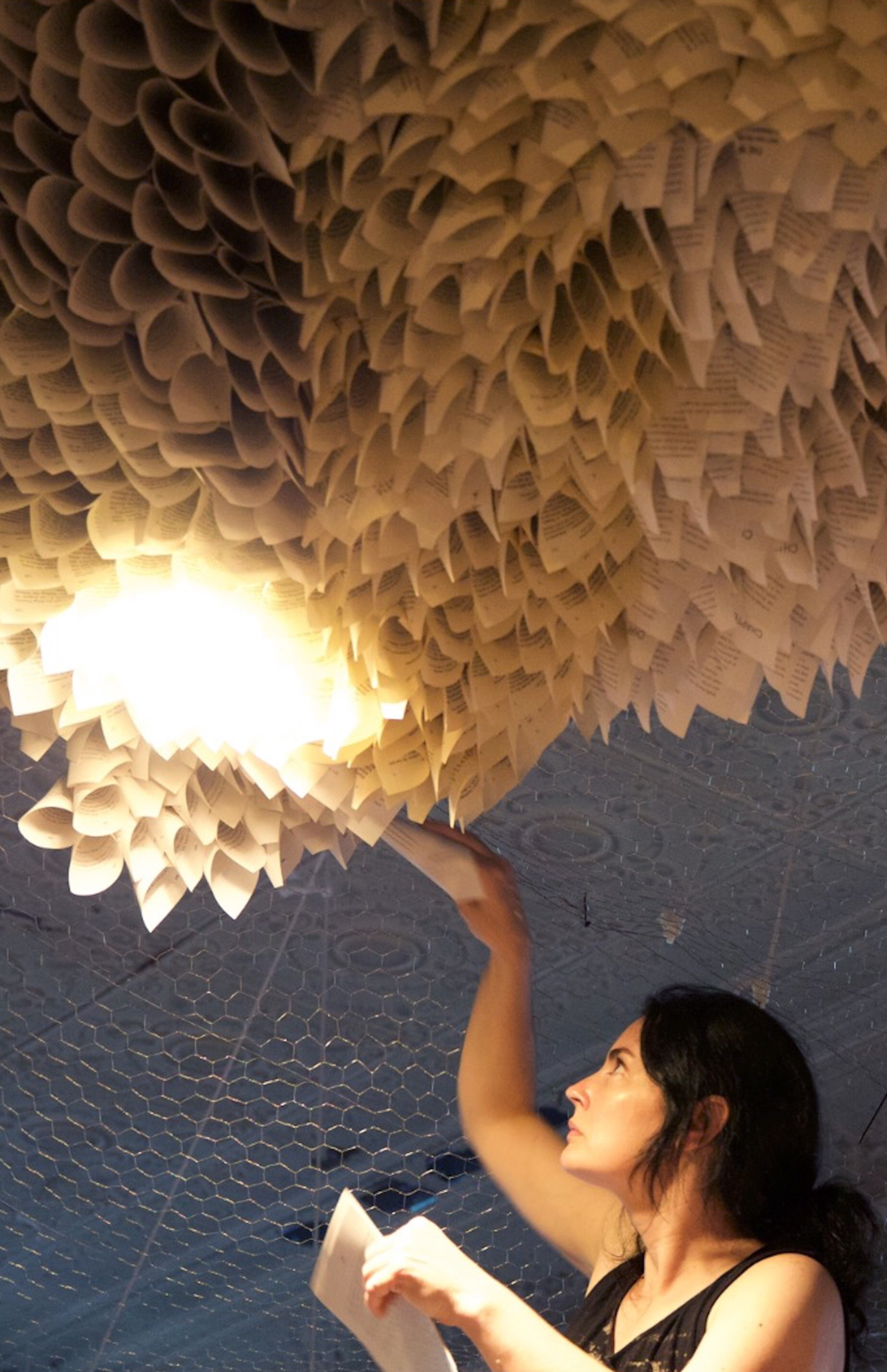 Can you tell us more about your art work MANIFESTATION 7— why did you decide to call your art work like that, and how demanding is the preparation and production process?
The original artwork that all of the Manifestations are based on was called "the paper caves" – a 2000sqare ft. completely immersive paper installation inspired by architecture in nature. Each time I create a new related work it felt like part of the original or somehow related to or growing out of that work each time manifesting new configurations.
The Arte Laguna team was invaluable when it came to preparing for Manifestation 7. They were able to secure and prepare all of the items I specified in order to build the work onsite. Once arriving at the Arsenal and seeing the location in the space I was able to begin sketching ideas for the form this particular work would take. I knew I wanted it to interact with the existing structure and feel as if it were growing from it. After finalizing the idea for the shape, I begin to form the wire armature then fill the entire piece with thousands and thousands of hand rolled paper cones, the most time consuming part of the process, with the help of my friends and volunteers.
What was your most challenging art project?
Each large-scale installation has its own challenges. Some are restricted by the amount of time given to install the work and sometimes there are challenges in finding the right materials. One of the most difficult to begin was a Manifestation in Beijing China. Materials were so different from what I was used to using and difficult to find. However, once that hurdle was crossed the project was successful.
Oh, great! Where do you get inspiration for your work and what is the daily routine of your artistic practice?
My work has always been multidisciplinary. Throughout all mediums; painting, drawing, sculpture, and installation, there is a common thread of subject matter – that of the interaction of the human made and non-human visual world languages. At times these encounters are contentious and at others symbiotic – often stills in processes of decay as well as those of fructuous growth. Whether through mark making or the repurposing of recycled materials, I seek to highlight the forms and details present in nature which humanity often overlooks and underappreciates- beehives, spiderwebs, wasps' nests, coral reefs, etc. I often set self-imposed parameters or a rigid structure representing metaphorical frameworks of natural laws, elements repeat and propagate giving way to organic forms free of their scaffolds both literal and non-material.
When working in the studio I often have multiple projects in progress. I tend to jump back and forth from drawing to painting to sculpture. They sometimes inform each other as to what direction they are going in. The more rigid ideas I begin with typically transform as I work.
Talking about your career as an artist, what is the most difficult part and are there any obstacles to overcome to making and exhibiting your works?
As the case is with many artists the most difficult part is having the funds to keep creating and creating on the scale you can imagine. Aside from the financial aspect there is also the physical demand of creating and moving large installations. Each piece is either built onsite which is very time consuming or it needs to be carefully shipped and assembled at the location of the exhibition. Either way it can be a difficult process. There are many hours spent planning and coordinating logistics which takes time and energy away from the creative process.
Tell us more about your future projects, please — do you already have a plan on how to use the prize money?
After returning from the exhibition in Venice I completed a work that is currently being shown in Miami and another in Las Vegas. I plan to continue creating these large-scale immersive installations and will certainly be using the prize money to help further this agenda. In future projects I am planning to incorporate more sound, light, colour and potentially movement.
You are a winner of the 15th edition of the Arte Laguna Prize ― what are the positive implications of this experience, and what advice would you give to those artists who are thinking about applying to the Prize?
Apply! Regardless of winning or not the overall experience of creating work for Arte Laguna was incredible. It is an organization that fosters creativity and helps to create a worldwide network of artists. The caliber of the participating artists is inspiring and the opportunity to experience Venice by being part Arte Laguna was unforgettable.