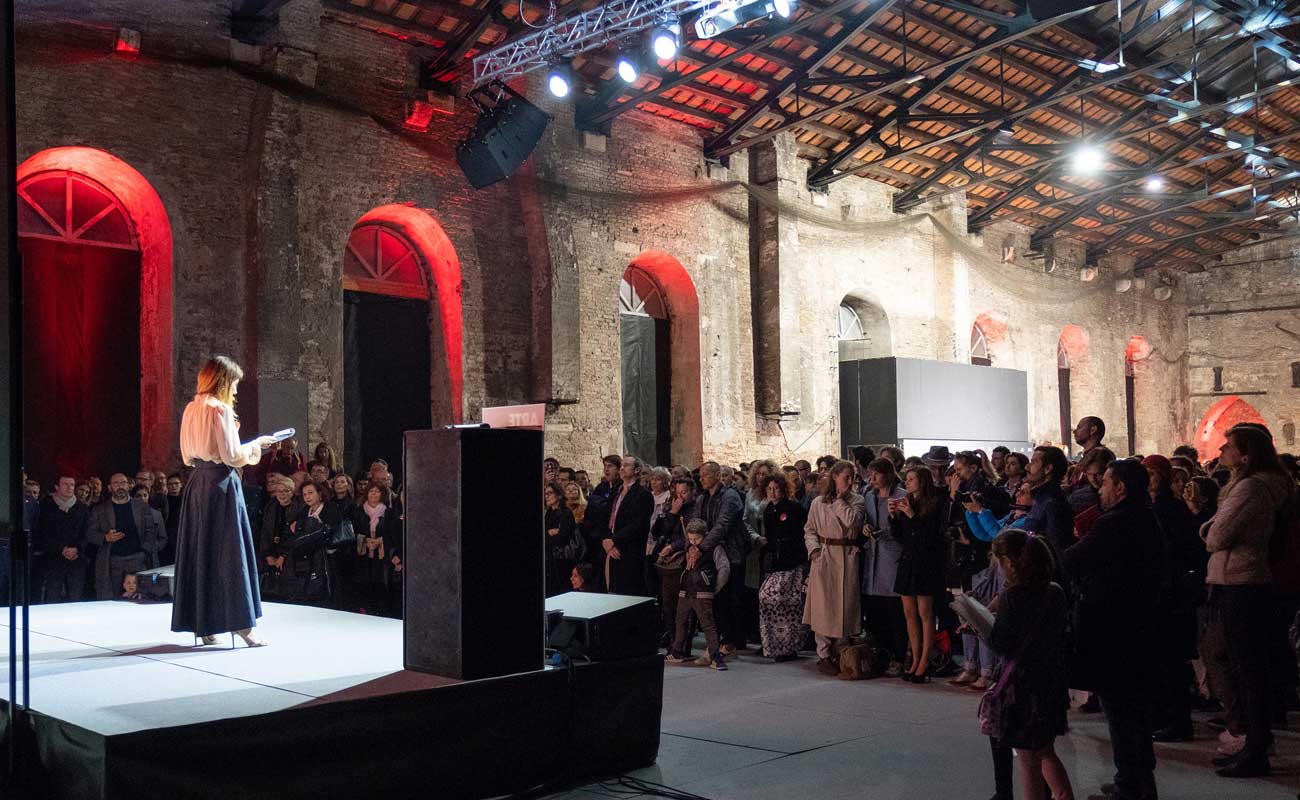 11 Feb

The 120 Finalists of the 14th Arte Laguna Prize

The names of the 120 finalists of the 14th edition of Arte Laguna Prize, selected by the international jury, have been announced!
Many artists of different nationalities who will have the opportunity to exhibit at the Arsenale Nord of Venice for 3 weeks. This year the most represented countries are: Italy, China, Germany, Russia and United States. A real overview of international contemporary art. The exhibition is curated by Igor Zanti and it will include 30 paintings, 25 sculptures and installations, 25 works of photographic art, 10 videos, 5 land art projects, 5 urban art projects, 5 virtual art projects, 5 digital graphics, 5 design projects and 5 performances.
The opening and awards ceremony will take place on Saturday, March 21st 2020 from 5 pm. During the opening night the finalist performances will be staged live and the four absolute winners, who will win the cash prizes for a total amount of 40,000 euros, will be announced as well as the winners of the 13 special prizes organized with the international Partners: exhibitions in international art galleries, collaborations with companies, art residencies in Italy and abroad, international festivals.

Here are all the names of the artists that will be part of the finalists' exhibition at the Arsenale of Venice from March 21st to April 13th 2020.
— Painting —
Surname Name Nationality Title
Alberti Camilla (Italia) – Songlines (10)
Breuers Marijke (Paesi Bassi) – Monastery garden II
Brousse Marc (Francia) – Fragments
Capecchi Daniele (Italia) – Micro/Macro
Cuadra González Pedro Pablo (Spagna) – La busqueda
Dall'Olio Giulia (Italia) – g 19][153 d
Day Jenny (Stati Uniti) – Electricity Drives The First Form
Di Lullo Daniela (Italia) – Have you lost your dreams?
Erzgräber Bettina (Germania) – coat 01
Frattini Vincenzo (Italia) – lacerazioni dinamiche
Garanger Boris (Francia) – to weave links
Garletti Emanuele (Italia) – WOMAN 05
Hasegawa Saori (Giappone) – Maigo no Fukei – No.100
Hinn Mirjam (Estonia) – Construction Y
Ivanovic Guagliumi Nevena (Serbia) – Chacun son cirque
Jablonska Malgorzata (Polonia) – "Mat" (from the "Inexhaustible series")
Ma Dongli (Cina) – Manufactured Truth
Mazuecos Belén (Spagna) – Fragile artist: Handle with care II
Moretti Tommaso (Italia) – "Prigione Eterna"
Mysock Adam (Stati Uniti) – How Did We Get Here
Otta Giulia (Italia) – Turisti stanchi si riposano su una panchina a Madrid
Parkinson Mark (Regno Unito) – Free Bread Rolls (Ljakonik)
Phattarachon Parnthip (Tailandia) – Crack 7-11
Ramadori Marilena (Italia) – Piazzale Magellano
Raso Alex (Italia) – Madonna, Sant'Anna, il Bambino e San Giovannino
Rosella Maurizio (Italia) – Still Present
Rossetti Brigitta (Italia) – Lost Spring VI
Sgro Tina (Italia) – consolle
Tang ShiYao (Cina) – An inaudible story
Watne Davin (Stati Uniti) – Done, Ferguson
— Photographic Art —
Surname Name Nationality Title
Barbera Marco (Italia) – attività tra cielo e mare
Berzon MacKie Sofie (Israele) – Thomas, day 1
Biancalani Andrea (Italia) – 29/09/19 – 15:26:08
Bianchi Carini Stefano (Italia) – Untitled
Carvalho Alyson (Brasile) – Dumisai – A Herald
Chen Wang (Cina) – Architectural language 04
Díaz Rigoberto (Cuba) – Visual Instruction Division
Dicran Bogossian (Francia) – Passage Vero Dodat
Eliayan-Pic Anne-Christian (Francia) – Voile de fragile lumière / Curtains of weak light
Goldstein Dina (Israele) – COMMANDMENTS Commandment JFK "You shall not commit adultery."
Heise Diana (Stati Uniti) – Heart (from Reassimilation Diet)
Jindal Chirag (Nuova Zelanda) – "no. 09 Landscape Road" from series "Into The Underworld"
Kahn Brendon (Stati Uniti) – Sliding Hope
Lohmann Alexander-Maria (Austria) – Screaming Silence III 13
Manalo Michael Vincent (Filippine) – A Hermit's Way of Looking At Life No. 47
Matsuhara Akitoshi (Giappone) – Dawn of lotus
Qian Ruya (Cina) – What you collect is part of yourself-No.1
Ricciardi Ugo (Italia) – Acacia#1. East Sahara, 2018
Romano Julia (Argentina) – Cultural Landscapes XX – tipa
Rosales Abreu Guibert (Cuba) – Geografia del poder
Semm Benjamin (Germania) – Perspective No. 9
Spiess Anne-Katrin (Svizzera) – Death by Plastic (Venice)
Vigoni Marcello (Italia) – Ardi Oh Mondo…
Von Büdingen Snezhana (Russia) – Meeting Sofie
Watanabe Nozomi (Giappone) – Observer
— Sculpture and Installation —
Surname Name Nationality Title
Alhemd Mohammad (Kuwait) – Halal on the Dance Floor
Anonima/LUCI (Italia) – Non c'è tempo!! (There's no time!!)
Fezer Simone (Germania) – shiny (bright new worlds)
Hdez-Güero Jesús (Cuba) – Tener la culpa (Have the blame)
Konovalova Elizaveta (Russia) – Svoboda
Korzhov Valentin (Russia) – Untitled #3
Locatelli Giulio (Italia) – La vicina grotta dei ricordi
MacRae Tolmie (Australia) – Oil Dancer
Mitra Ankon (India) – Komorebi
Neumann Matthias (Germania) – basics #27
nici (Giappone) – Tada sugini sugurumono
Pak Tanja (Slovenia) – Congé
Pearcey Rachel (Regno Unito) – Brexit – I don't want to leave, please don't make me
Pensyl Russell (Stati Uniti) – Red-Green-Wait
Picaroon (Germania) – Chasing Tomorrow
Ren Xuemei (Cina) – AIDS forest series-Distance
Serzysko Sebastian (Polonia) – Mindfully Transparent
Sève Favre (Svizzera) – "Être au pied du mur"
Stappaerts Boy & Erik (Belgio) – Databank I
Stefanescu Cristian (Romania) – Inner Door #01
Topescu Mihai (Romania) – Manifesto for clean Venice
Torres Ruiz Gabriela (Messico) – Raíces, from the project The Path of Least Resistance
Tseng Rexy (Taiwan) – 90×200
Unrrein Nacho (Argentina) – 749.766m3 of summer
Van Driessche Peter (Belgio) – Infiniti 33 – Transit Wall
— Video Art and short films —
Surname Name Nationality Title
Charif Khalil / Bonisson Marcos (Brasile) – Kopacabana
Frech Kevin (Stati Uniti) – Commune
Gao Yuan (Cina) – Cloud of the Unknown
Glez Alejandra (Cuba) – Risa y llanto
Handelsman Shir (Israele) – Rebirth
mono | mento (Portogallo)- railway tittle-tattle
Müllner Leonhard / Klengel Robin / Stumpf Michael (Austria) – How to Disappear
Ouellet Kenji (Germania) – In Dog Years I'm Dead
Perego Isabella (Italia) – Carillon
Tseng Yu Chin – Shivering wall
— Performance —
Surname Name Nationality Title
Azcona Abel (Spagna) – Empatía y Prostitución | Empathy and Prostitution
Cimmino/Silvestro (Italia) – Dennis with flowers
Karounis Ioannis (Grecia) – Nature
Kiselev Pavel(Russia) – The limits
Lee Lucky (Russia) – Golden Anti-Tanks
— Virtual Art —
Surname Name Nationality Title
Art Collective Fragmentin (Svizzera) – 2199
Grankova Varvara (Russia) – nenasilie
Jiun Ting Lai (Taiwan) – UNDERSTAND_V.T.S.
Li Fei (Cina) – CNY/USD, CNY/EUR, CNY/RUB, CNY/GBP
Tishin Vyacheslav (Russia) – Inversion of the Watermelon Line
— Digital Graphics —
Surname Name Nationality Title
Cho Hyun Kyung (Corea) – Libertad 02
Colorchiara (Italia) – Opportuniland
Schnall Greta (Germania) – White City
Trifoni Stefania (Italia) – Building with lamp
Zeh Fernandes (Brasile) – Generative World Cup 2018 – Spain vs Russia
— Land art —
Surname Name Nationality Title
Duncan Carey (Sud Africa) – Zhuzh
Gorini Monica (Italia) – La porta
Hiroshi Itami (Giappone) – Energy accumulation
Naty Eugenia (Italia) – golden Earth
Vollach Moshe (Israele) – 31 Cubes, A Land Art project
— Urban Art —
Surname Name Nationality Title
Loznikow Grzegorz (Polonia) – Winter Construction
OMUF (Italia) – Snia
Rainer Jacob (Germania) – ice stickers
Sainte Anne (Italia) – Floatin' Flowers
Vewenda Coco (Congo) – Voted
— Art Design —
Surname Name Nationality Title
Beitz Michael (Stati Uniti) – Rest
Jeza Primoz (Slovenia) – Frankenstein's Bride
Saranga Nitzotz (Israele) – DEBUG yourself
Shi Xiaodong (Cina) – Jiu Ge
Taranto Martina (Italia) – Relativistic Objects